This is Shayshay and Meecies puppies that have been sold over the last couple of years.

SHAYSHAY
Shayshay is the mother and is no longer lives with us.She was given to me and she had been raised with pit bulls.She did ok until she had her pups.She was a bad mother and attacked 3 of my females after the pup was sold.She went for the throat and almost killed them.i had to get rid of her.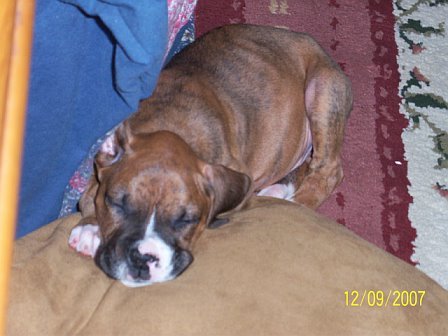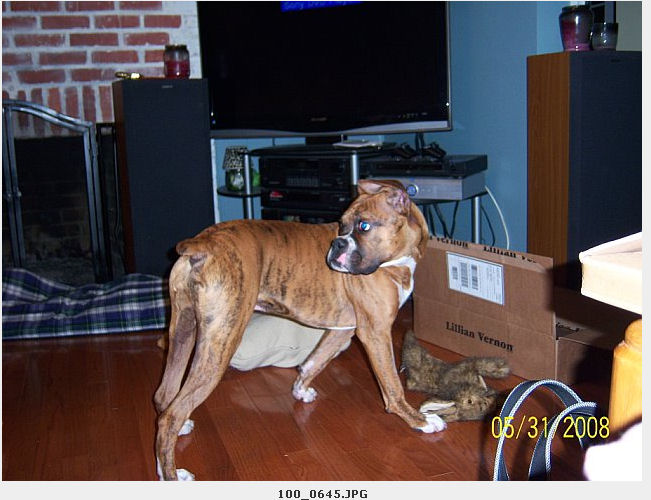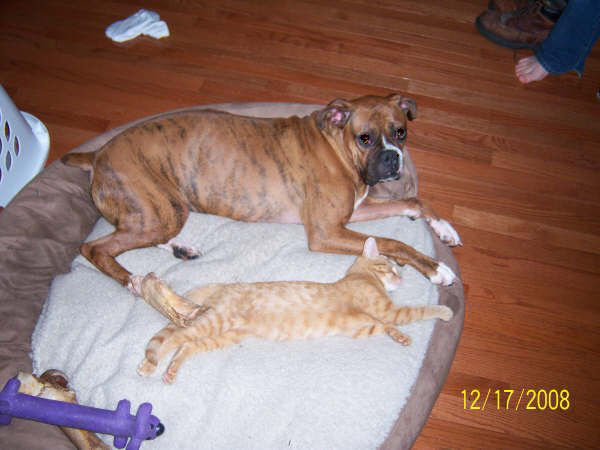 Jax

This is Jax,and he is a Flashy Brindle Male Boxer.He was born October 16th 2007 to ShayShay [mother] and Voodoo [father].He is owned by Tracey who lives in Virginia.We met them half way to Deliver their pup. This is Jax's new playmate.Tracy found this cat and took him in.Jax fell in love and now they share a bed together. 1-5-2009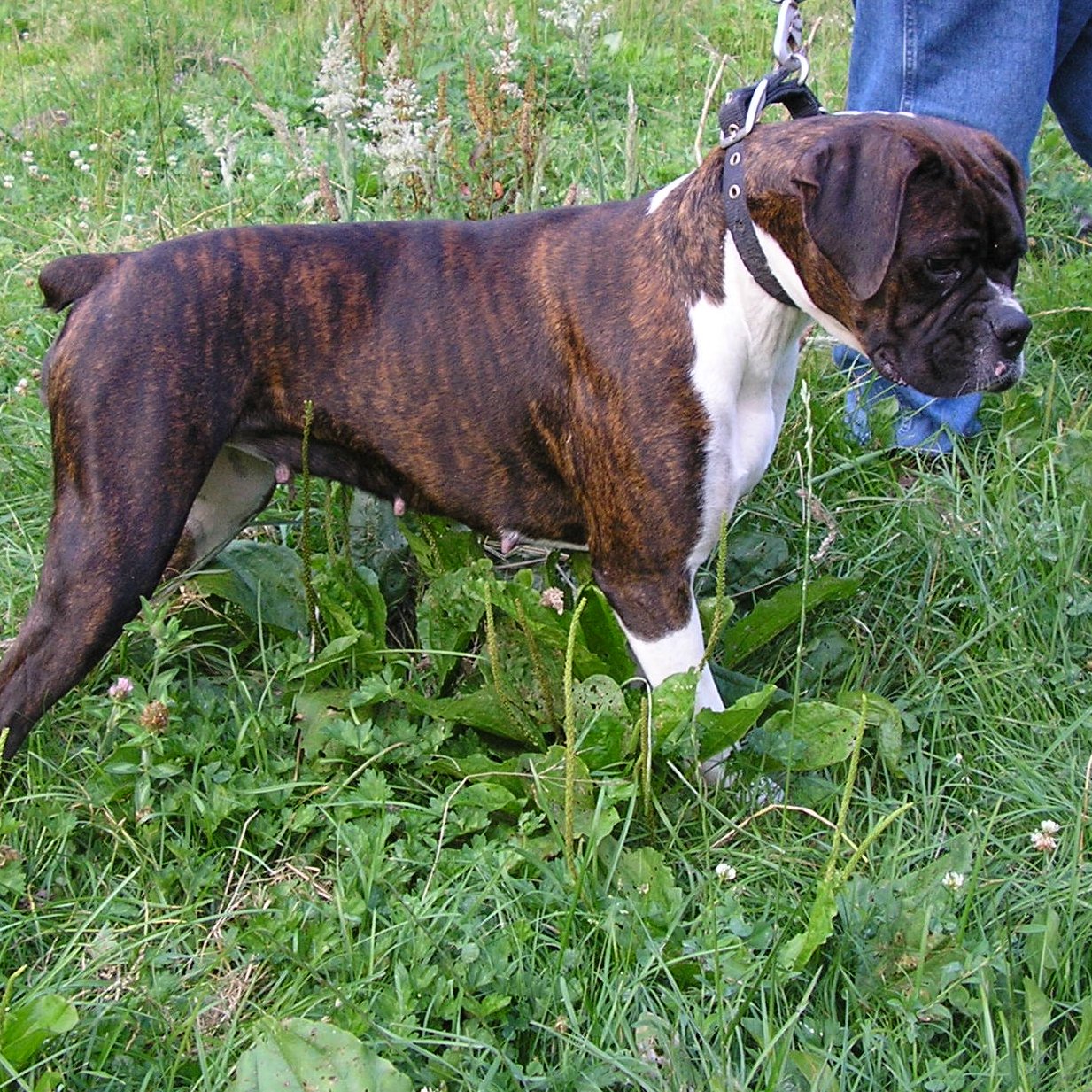 MEECIE
She is the MOTHER TO THESE LITTERS.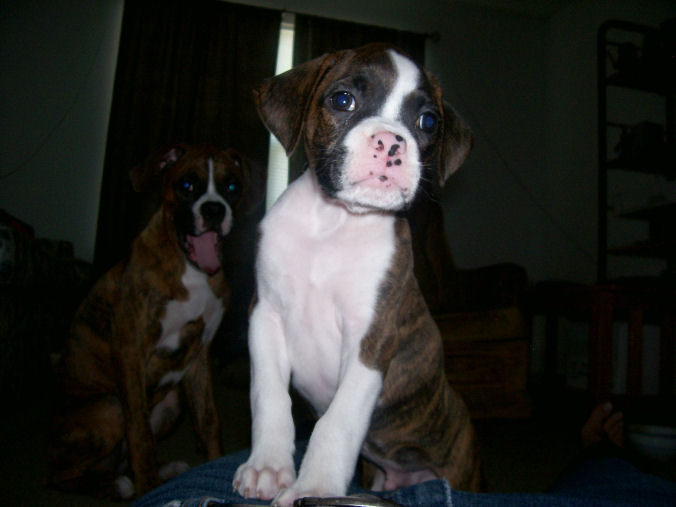 Dynamite Dasher

This is Dynamite Dasher and Romancing Rome. Dynamite is Brents third pup they have bought from me.He was born August 21 2008.His mother is Meecie and his father is Chance.Brent lives in Virginia and brought his 2 other boxers down for me to see when he picked up Dynamite. He is a Flashy Brindle Male 3-7.He weighs 20 pounds.This is the review they left for me:

Dynamite Dasher Combs, aka DC
This is the third Boxer that we have purchased from Marie, and when we want another one, we will definitely come back to her. Again, we recieved a beautiful well mannered, clean puppy. His is gorgeous and so friendlyl. When we brought him home, the two girls welcomed and they play and cuddle together when they sleep. We have never met better mannered or more friendly dogs that the ones Marie breeds. We will keep coming back. :)
Reviewer:
Brent
, November 23, 2008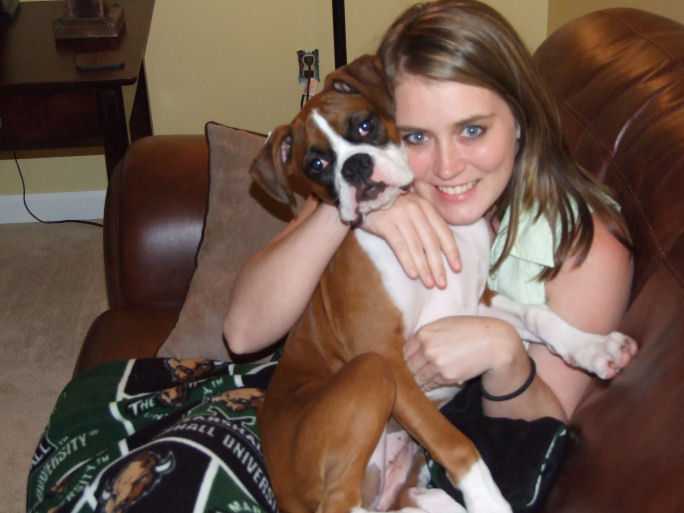 Indi

This is Indi ,she is a Flashy Fawn Female.She was born January 3rd 2008.Her mother is Shushu and her father is Chance.She belongs to Josh and this is Josh's girlfriend from WV. this is their review for me on puppyfind.com:

Wonderful Flashy Fawn (Indi Lu)
We picked Indi Lu from Marie and she is wonderful!!!! She is very healthy, beautiful, energetic, and playful!!! Marie was wonderful with the transaction and very pleasant. She is a great breeder; she knows what she is doing and she is very passionate with the dogs!!! We couldn't ask for a better puppy!!! Thanks Marie
Reviewer:
Joshua
, February 20, 2008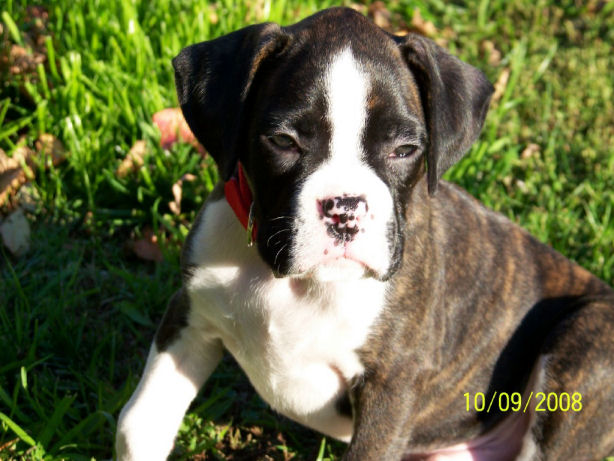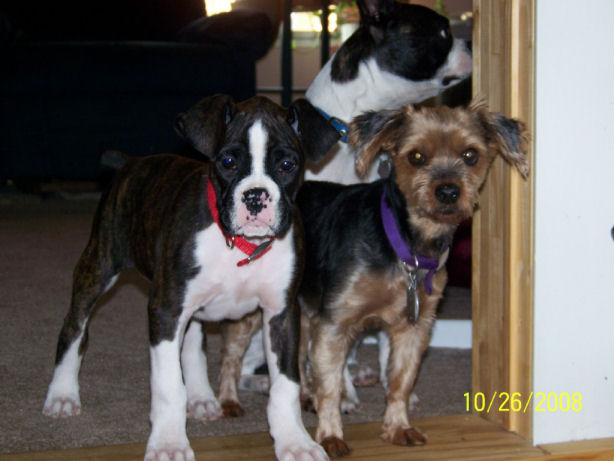 Dozer

This beautiful little boy is Dozer 1-7.He belongs to Kelly and Diane.His mother is Meecie and his father is Chance.He was born August 21 2008.He was Hand Delivered to Pennsylvania October 3rd 2008. Here is the review they left for me on puppyfind.com:

A wonderful puppy
We purchased Dozer, a brindle boxer, from Marie a few months ago and he is a wonderful dog with an excellent temperment. He just loves to play with our other dogs a Boston terrier and a Yorkie. He is a very loving pup and is also very good with my 4 yr. old grand daughter.. We have had no health problems with him and he's growing like a weed.. Marie has been great with everything and likes to following up on her "kids" which is nice.. Would buy from her again in the future.. Thank You, Marie.... Diane and Kelly
Reviewer:
Diane
, November 22, 2008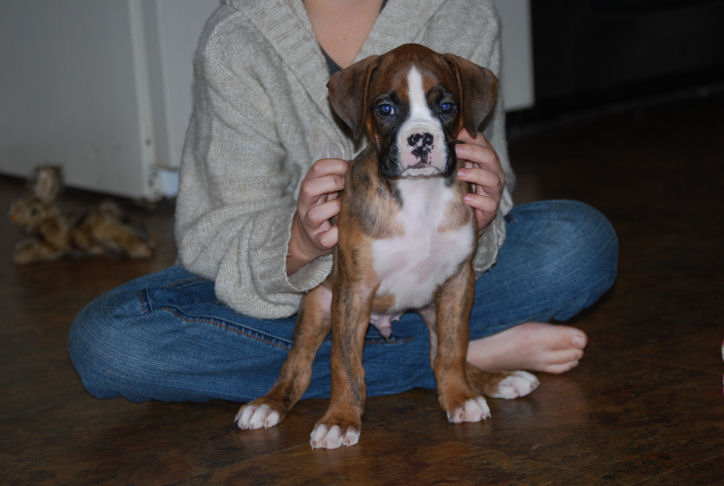 Romo

This is Romo, he is a Flashy Brindle Male.He was born September 29th 2008,his mother is Shushu and his father is Dakota.He belongs to Heather,Scott and their 6 children! He was Hand Delivered to New York.This is their review for me in Puppyfind.com:

Do yourself a favor...Get your Boxer puppy HERE!
We are still amazed when we think about how well everything went. You really couldn't ask for anything more from a breeder. Excellent communication, honesty, compassion, throughness, etc!! After talking with Marie, the decision to purchase a puppy from her was easy. It is VERY obvious that she cares a great deal for all of her dogs, and when you get your puppy from her, it is apparent that it was extremely well taken care of. The fact that she refuses to ship any of her puppies, in favor of delivering them to you, really says it all! Romo is a great little guy. He is already a well established member of the family. he is just perfect. Thank you, thank you, thank you...for everything! Scott, Heather and the rest of the clan
Reviewer:
Scott
, November 25, 2008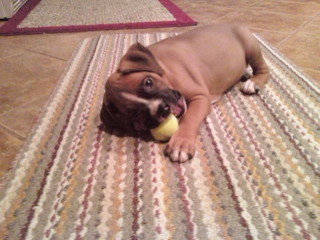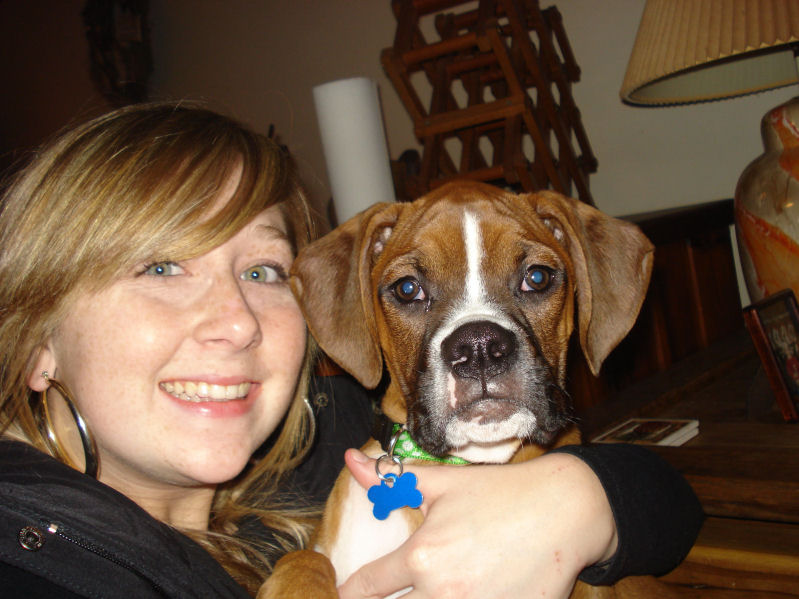 Tank


This is Tank puppy 6-8,he was born September 29th 2008.His parents are Shushu and Dakota.Erica lives in PA.
This is Erica's review for me on Puppyfind.com

Erica
Marie was excellent with letting me know everything about her pups! She kept in contact constantly, she was very helpful! I love Tank he is so well behaved and a beautiful dog like all of hers! Marie was helpful through the whole experience. I hope one day to buy another puppy from her! Thank you so so much! Erica
Reviewer: Erica, December 20, 2008
This is Erica and Tank,look at how he has grown. 1-5-2009.He weighs 25 pounds and he is only 3 and 1/2 months old.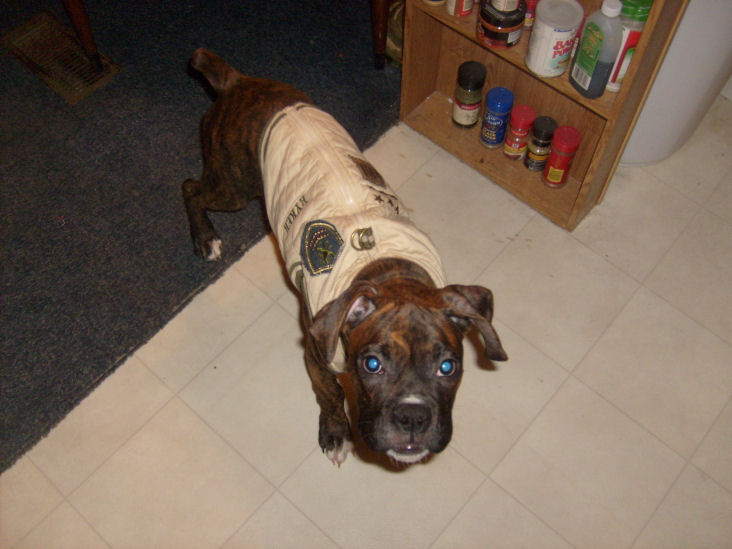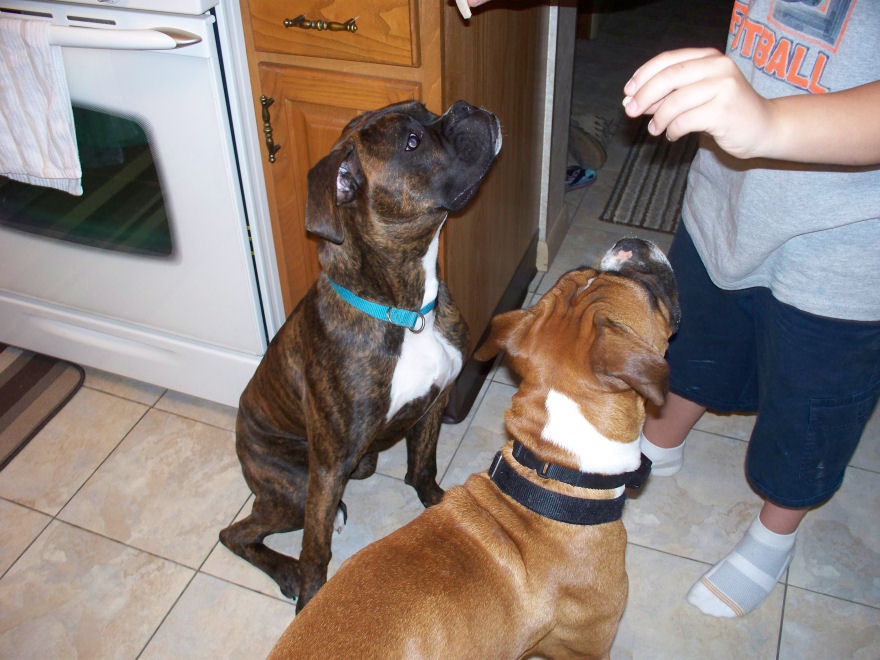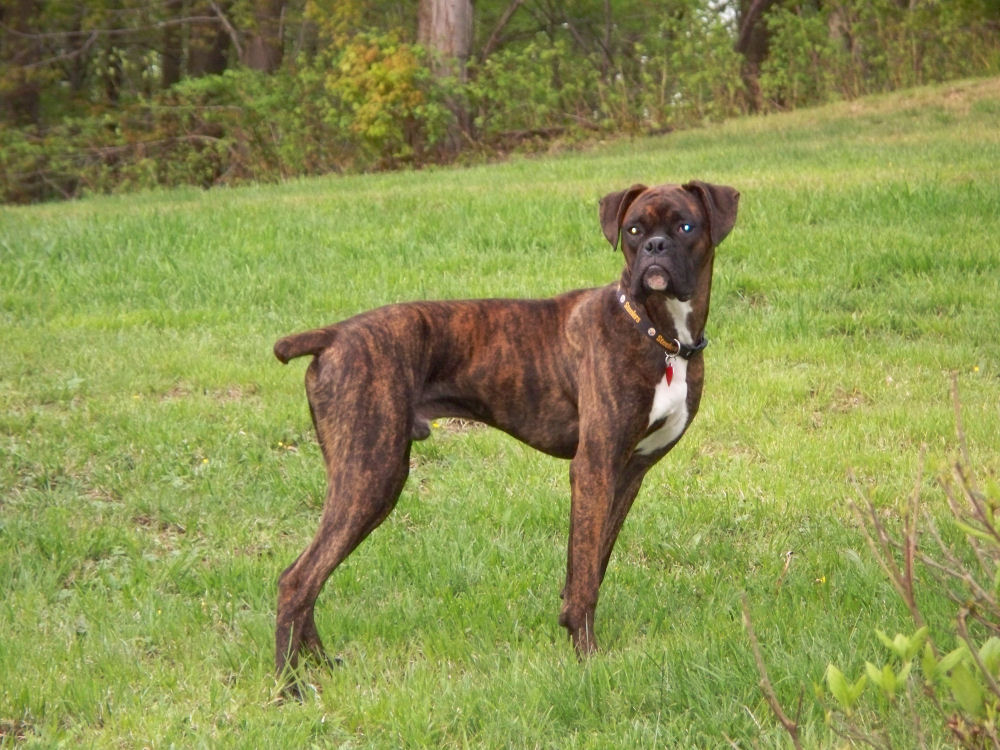 Ryker
This little guy is a Black Mask Brindle 4-7.His name is Ryker and his mother is Meecie and the father Titan.He was born September 1st 2008.He was bought by Pam who lives in West Virginia.
Cash
This little guy is a Flashy Fawn Male 3-8 .He was bought by Tabatha from New Hamster.
This pup was picked up by her friends on December 13th 2008.His name is Cash. His
Mother is Shushu, and his father is Dakota.He was Born September 29th 2008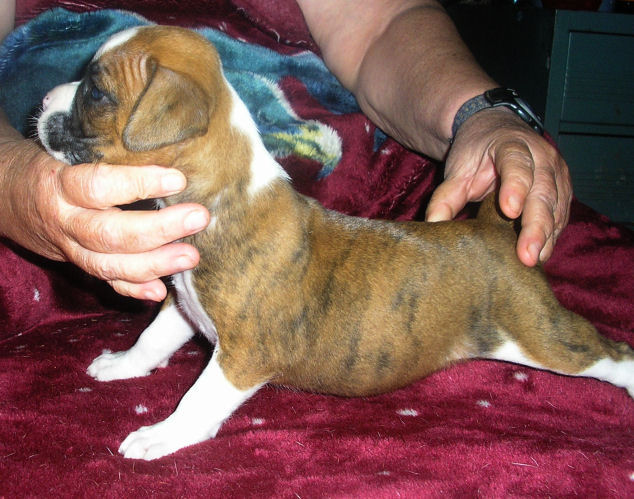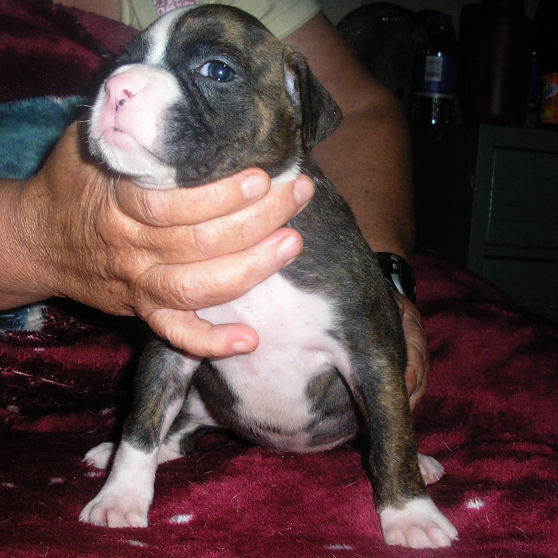 SOPHIE
JUSTIN FROM PENNSIVANIA IS HER NEW OWNER.